In the beginning, format was king. The mere fact that we were reading something on the web made it important. It had somehow come to occupy this new medium, which in itself was novel and beautiful and confusing. Whoever put it there had to be smart, and therefore the content as well.
Then, at some point, maybe the early 2000's, content became king. Your format is getting in the way of our content, we'd say. Enough of the tables, the flash, the jpeg-rendered text. Let us read <pre> formatted courier and be fulfilled.
Then context became king; it was more important where, when, and how readers got the content than what the content actually was. Can I read it on my iWatch? Because that's how I read stuff nowadays. Is it RTL compatible? Pft, how dare we ignore half the world (if not more)'s readership.
Contrast is next. It's all we have left. Is it different than what I've seen before? Does it stand out? In my daily sea-of-noise, what clambers to the surface, bobbing aggressively for attention like some snagged snapper float? That's what I'll read.
I don't even know what that is
I read something about a 20 million dollar loss
Whose loss? How does one even lose 20 mill?
I spend the next 20 minutes looking for a new car
In the classifieds, and land on one like new
Kelly green
Olds, only 40k and just inspected
I call the number, Al answers
This is Al
Hi, can I see the olds?
Who is this? Jerry?
And I hang up
I settle on an editorial, someone thinks the war on milk needs to end
I'm a professor, which I suppose makes me a professional teacher. I instead like to think of myself as a professional learner. I believe that teaching is an extension of learning. It enhances learning. If I can teach you how to do something, it means I have learned it myself. There are other ways to prove this to myself; if someone is paying me to do something, there's a pretty good chance I know how to do it. But if I can observe you doing it, as a consequence of my having taught it to you, that's exponentially better proof that I've learned it.
Looking out my window at the leaves
that finally came in the last few weeks,
and having played this video game Fortnight
where you build shieldish fortresses,
I can see that my tree building a shield
so it can incubate things along its thick brown branches
behind the green ruse we use, we and our crafty cousins,
to ward off the sun who loves the green
and forgets about us, and forgives the trees
I often think of Picasso's famous quote, "Art is the sum of my destructions". I've always gotten that. Whenever I make art, I feel like the second I'm close to that perfect line, shade, shape or texture, there's all this pressure that I'm gonna fuck up.
When that happens, I imagine a little Picasso sitting on my shoulder, going "So why not fuck up royally?" And I give in. It's easy, freeing, and I embrace the fuckup. I slash the pen, gouge the surface, rip it all up.
It never quite works, though. More often than not, I end up with a pile of mess. I chastise myself for wasting my time, paint, paper, canvas. I feel like a failure in little Picasso's eyes. "You didn't fuck up hard enough" I can hear him saying.
The little voice is easy to dismiss. Of course I can make something nice. Not destroy it. Nurture it, coax it along in its lousy, spineless, eager-to-please formulaic predictability. Eventually I'll end up with something having at least a few people gazing, stoking my ego-fires.
But the best stuff I've always made happens when I give in. The only way to find that thing, the thing I want to leave behind, is to fuck up. Intentionally. Destroy that clean line, that perfect texture, that awesome font. Force myself to do it again, but better this time. And being aware of my doing it.
I recently read an article about someone who experienced trauma when they were very young, and how it manifested itself for the rest of his life as "the darkness", a kind of demonic presence that was always looming.
It was a very sad read. Though a very busy person, he found no joy in work, relationships, exercise or hobbies. Eventually, he took his life.
I learned about Bills' wide receiver Zay Jones' incident last night, and began to think about it in that the context of "the darkness". I wonder if he, too, has some kind of burden he carries, tied to experiences he cannot forget or wishes never happened.
I'm also torn up about all the stories coming forth regarding victims of abuse at the hands of those who should be their nurturers. The darkness that follows them must be excruciating. It's encouraging to see them bringing their stories to the light.
If I had to define depression, it would be this darkness thing that follows you around and can't be shaken off. I think we all experience it from time to time—something just beyond the horizon, or inching closer behind us in the rearview mirror. Most of us have learned to block it out, or ignore it. At our best, we learn to confront and defeat it. Life is tough, but we persevere.
We label people who are forced to cope with horrifying experiences, and who lack the facility to overcome the darkness, as depressed, mentally ill, unstable. First and foremost, however, they're survivors, fighters, soldiers, heroes. They are us. We must replace words that marginalize and pigeon-hole with ones that humanize and empower. The darkness doesn't stand a chance against community.
This spring, I'll be teaching my age-old 2D Graphics course. Every time I teach it, I spend waaaaay too much time wondering what I should include in the course content. I change it every year.
Adobe is the go-to graphics software company, and that hasn't changed since they bought Macromedia long ago.
I started off in 2001 with one of the best books ever written on this stuff, Luann Seymour's Design Essentials. 
Not sure what Luann is up to these days, but it isn't, and hasn't been for a long time, making awesome books. Unfortunately, the text stopped updating after a few years of said awesomeness, and as much as I'd like to keep assigning it, Adobe has moved on. Last spring, I assigned the closest thing I could find to Luann's Masterpiece, and it fell waaayyy short. My course ratings dipped lower than ever.
So I'm back to my age-old question: What are 2D Graphics? How do I teach students about 2D Graphics? What book should I assign; or do I have to write my own book?
We see because of light reacting with our crazy eyes and ocular nerves and brains.
But there's a lot to learn about where that light's coming from. It's either being emitted or reflected.
The primary point of emitted light, for most of our existence on this planet, has been very hard, even dangerous, to look at. I'm talking about the sun. Other points are intriguing and inspiring: fire, candles, fireflies, stars, lightning, but they've been fleeting. We've never stared at them for more than a few moments, dreaming of things.
Our eyes were always concerned with reflected light. Light that revealed the skin of those we loved and feared, the places we lived and travel to, the words that formed our literature. The light that reflected off gardens that enveloped us and blades that killed us.
Our eyes now focus on emissive sources. We've harnessed the power of the sun and stars and flames and can represent those things with a single binary point of light. We call those points pixels, and they can be as big or small, bright or dim, red or blue as we want. They can be wherever we want them to be, and change according to our magnificent instructions. They constitute our stories.
Just like fonts, icons can be designed in different weights. Here's how it works in my current design, chubbicons: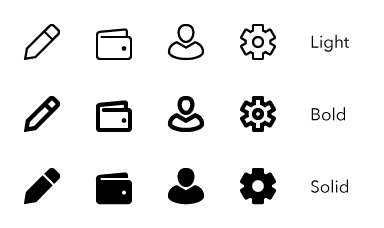 These are all rendered at 32×32. The bold weight was designed with 1 pixel wide stroke on a 9×9 grid, while the light weight was 1 pixel on an 18×18 grid. The solid is just solid with some white 1 or 2 pixel details.
Everyone's so big on the outlined icons, but I have a feeling solids will come back in style.
I'm having fun with this theme. It makes it easy to think of things to make.
Editing this article to discuss general icon design standards, which I believe are needed. Icons should down-rez gracefully to small sizes, with vertical and horizontal edges aligning to the pixel grid at sizes as small as 9 pixels. A 3×3 sub grid should be adhered to when designing icons.
[codepen_embed height="265″ theme_id="1″ slug_hash="EvqZQZ" default_tab="html,result" user="empireoflight"]See the Pen <a href='https://codepen.io/empireoflight/pen/EvqZQZ/'>base-8 grid icons</a> by Ben Dunkle (<a href='https://codepen.io/empireoflight'>@empireoflight</a>) on <a href='https://codepen.io'>CodePen</a>.[/codepen_embed]
As you can see in the last icon, the 3×3 subgrid isn't honored and some edges get blurry:

As soon as I was considering life after high school, I had my heart set on Cooper Union. I wanted to make "cool looking shit", I was good at it and CU was where the best in the world did it. Plus it was in Manhattan, my favorite place in the world and a 45 minute train ride. Plus it was free, and that to me was everything.
I could have afforded to pay for Pratt, or SVA, or RISD; I applied and got into all of them. My parents told me I could go anywhere; and considering my sister was at Amherst College, one of the most expensive schools in the world, and my brother ended up at Harvard, they weren't kidding. But for me, it was the street-cred that getting into CU, where only 5% of the kids who think they're good at making cool shit get in, that was so alluring.
I remember attending the info/interested students day thing, sitting in an auditorium, being handed a packet of instructions on cool shit I had to make to prove my worthiness, and hearing the MC, and oldish white dude who was probably pretty good at making cool shit, send us off with a "now go work your little butts off!"
Something about that rubbed me the wrong way. I got it; me the the hundred-odd other art nerds were a bunch of wannabees  and CU owed us nothing. I looked over the packet when I got home, and saw 5 or 6 assignments: draw the plans for a new invention that tells time, paint an interior space with only solid black shapes, render an object as it morphs from one thing to another, and a couple others.
And I let it sit there. I had no inspiration to do it; it felt forced, and I kept thinking of that asshole treating us like sheep, as I had come to think of him. Days flew by as they do, and the deadline was in a week. I panicked.
It must have also been a very hard time in my life, and other things were causing me stress—my brother Matt was a constant source of disruption, I was trying to make state qualifying times for the 50yard freestyle, I'm sure my romantic heart was being torn up by a variety of love interests, and none of my friends from the previous class were around at school; they were around though, distracting me with all the things we loved to do and no island of school time in common to do it. I missed classes and my grades suffered.
So, staring at the pile of assignment sheets, and in a fit of white hot frustration, I punched my bed. I thought I was punching the mattress, but that was just the sheet hanging over the wooden railing. I shattered two metacarpals in my right hand—my art hand. The cast that ended up there shortly afterward prohibited any of the deftness and agility I relied on in my making of cool shit. I did the best I could with my left, but the results were hurried, shaky, and incoherent.
I took the train in and dropped it off a few minutes before CU closed on deadline day, although I knew I was wasting my time. And I was; the rejection letter, probably written by the asshole MC, came a few weeks later. It's been a source of regret my whole life.
I ended up at a variety of SUNY schools, sometimes making cool shit and sometimes blowing it off, but never really feeling like I was in the right place. Eventually things worked out, once I connected with the right people and found faculty who didn't put up with my bullshit, and inspired me to actually work. Still, any time I see CU on a resume, or meet people who've gone there, I'm confronted with feelings of immense respect, burning jealousy, and nagging curiosity: why were they able work their little butts off when I couldn't?
Went up to Canada with Nancy and her friend. Stopped at the grocery, got the guac stuff and some burger meat.Chased a few house wrens away. Cleaned the cottage up while the girls made guac. Went surfing at Pleasant, watched Nan and her bud get sweet rides. Got a ticket there and almost towed but that's fine. My fault. Back to the cottage, ate some Mabel's pizza, made some burgers. Checked in with the neighbors. Came home to a wide open Peace Bridge, no wait, no hassle. Sky was epic with clouds and light all day. Home now and idling until Twin Peaks. Let's hope Audrey Horne finally shows up.
I have the app, I've played with it, made some icons, and I still don't get it.
I think folks who use it a lot aren't fluent html/css coders. For me, it's a lot easier to do the things people say Sketch shines at directly in code.
Do you use Sketch? Do you consider yourself a fluent front-end coder? I'd love to know if I'm just doing it wrong.
is falling outside my Lyons office window.